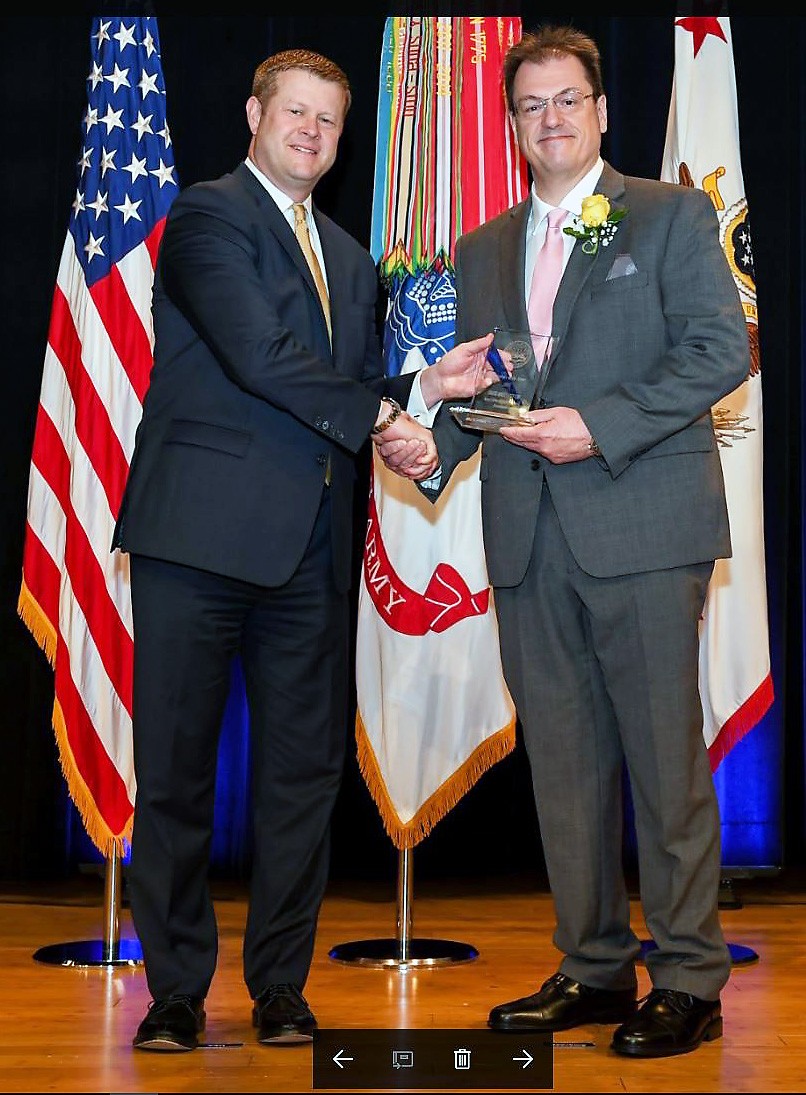 PS Magazine Publisher Wins SecArmy Award; second consecutive year for the best recognition | Item
ROCK ISLAND ARSENAL, Ill. — Grace has touched down on legendary Army PS magazine two years in a row.
Its editor, David Cotton, who goes by his middle name, Bruce, was shortlisted for the Secretary of the Army's Editor of the Year Award, Order Publication Category, for 2018. The previous year, PS Magazine editor Jonathan Pierce also won the same award and the magazine was also selected as the Army's Most Improved Publication of the Year. Pierce retired last year and was replaced by Dr Robert Hill.
This year's ceremony took place on May 3 at the Pentagon. The review period was from July 2017 to June 2018, when PS Magazine was still part of the Logistics Support business (now the Logistics Data Analytics Center). PS Magazine is now assigned to US Army Sustainment Command, Redstone Arsenal Detachment, Alabama.
PS Magazine was first published in June 1951 and served as a monthly magazine featuring cartoons with characters such as Master Sgt. Half-Mast and others over the decades to illustrate correct preventative maintenance procedures on army equipment. The "PS" stands for "post script" because it worked for that purpose for technical manuals and other maintenance materials.
In June 2017, the last print issue was released as it later became an online product. The 800th edition will be available in July.
Individual awards like this don't come often. Cotton, who was promoted to editor in 2012, said the last time he received a semi-comparable award was in the 1980s, when he was twice named to the Society of the Crimson Pen from Army's Ordnance magazine, working as a civilian. public affairs specialist.
Learning of this year's prestigious award completely surprised him, Cotton said.
"I was actually at home at the time. I got a text from Dr. (Robert) Hill congratulating me on being selected," Cotton recalled.
"I just sat there for several minutes in shock and disbelief. I must have read the text a dozen times before it was finally understood. Then I responded to Dr Hill's text and I started informing my family," he explained of the events of his day off. . "We didn't have a lot of time to put everything in place."
The text arrived on April 26 and the ceremony took place the following Friday, May 3.
"My immediate reaction was pure joy," Hill said. "I was convinced Bruce deserved it, but wondered if the magazine's win the year before might mean someone else would get the nod this year. Reading the ad confirmed that taking the time to prepare the package was worth it."
Cotton credited the magazine's staff for their recent recognition.
"As for why I won, I think most of the credit goes to the staff at PS Magazine. I've been here a long time – over 20 years as a writer and another seven as a editor-in-chief. During this time, I worked with a group of accomplished professionals at all levels – writing, research, interviews and production."
While Cotton has many duties as editor, he is also responsible for the magazine's reader service program.
He explained that the magazine receives up to 1,400 emails a year from soldiers seeking help with specific maintenance or supply issues that require an immediate response. Most of the time, questions can be answered quickly based on the archive of previous questions. When unable to answer, the magazine has a list of subject matter experts throughout the military who can.
"The editor of any publication is truly the 'heartbeat' of that publication. He or she is most responsible for the day-to-day running of the magazine and ensuring its quality and continuity," Hill explained. "Few people carry out these responsibilities better than Bruce. I was also aware of his intention to retire at the end of this year and felt that achieving this recognition would be a very 'ceiling'. appropriate for his nearly 37 years as an Army civilian, mostly those serving PS Magazine."
This was Cotton's second visit to the Pentagon. The first visit was for a conference three decades ago as a public affairs intern. He said he didn't remember much from that time and that this recent visit was very much like the first time.
Cotton's wife, Cindy, went with him; one of his sons, Clarke, and his girlfriend, Cara Recker, also attended the ceremony.
"They came all the way to DC from the Cincinnati area after work. They didn't arrive until around 2 a.m., just six hours before we were supposed to be at the Pentagon. I was really surprised for him to do something like that for me," Cotton said of his son and girlfriend.
Cotton said his youngest son, Alex, and his wife, Sydney, were unable to attend due to work responsibilities.
"Our escort was a young military officer. Unfortunately, I don't remember his name, but he was an excellent guide, telling us all about the Pentagon," Cotton said. "The most fascinating thing for all of us was to see how the Pentagon looks like a small town. In addition to all the work that goes on there, we saw shops, restaurants, a veterinary clinic, surgeries medical and much more.
Unfortunately, the Secretary of the Army, Dr. Mark Esper, was unable to arrange the ceremony. Still, meeting the Army's No. 2 civilian — Army Undersecretary Ryan McCarthy — was a thrill, Cotton said.
"It was a real honor. He was asked to do the introductions almost at the last minute when Secretary Esper was called in," Cotton explained. "Although he didn't have much time to prepare, he handled everything perfectly and with a great sense of humor. I was also surprised when he handed us each a coin from the penny. -Secretary of the Army.
Other publishing awards went to Kathryn Stone and Patrick Zoch. Stone, a legal adviser assigned to the Pentagon's office of the Judge Advocate General, received the Army Editor of the Year award in the departmental category for her work on Army Regulation 27-26, rules of professional conduct for lawyers. Zoch, Chief of Policy, Office of the Vice Provost for Learning Systems, Army University, Fort Leavenworth, Kansas, was awarded the Most Improved Publication of the Year for his work in Regulation 350 -70 Command Training and Doctrine, Army Learning Policy and Systems.
Cotton said he also received a letter of congratulations from Maj. Gen. Duane Gamble, commanding general of CSA, and a letter of congratulations from G-3 (Operations) of U.S. Army Materiel Command signed by Brig. Gen. Christopher Mohan, Command Sgt. Maj. Petra Casarez and Deputy Chief of Staff Nathan Godwin.
"I will just repeat that supervisors should actively seek opportunities to shine a light on their employees and subject them to recognition like this. It certainly takes time to put together a package like this and, most importantly, get it approved chain of command, but it's worth it," Hill said.
"It's always great to be recognized for what you love to do. But I also appreciated the chance to visit our nation's capital. There's so much history and beautiful architecture to see there," said said Cotton. "We stayed over the weekend to see as much as possible. Upon leaving, I was surprised to see that we had covered almost 26 miles in a few days."
Cotton has confirmed that he plans to retire at the start of January next year. His government career began in September 1983.
He said he hoped to spend his time traveling and writing more fantasy novels. To date, he has published four such books.
"When it comes to work, they say do what you love. I've been lucky enough to do that for most of my life. So I guess it's only natural that I want to do the same outside of work," Cotton said. "I'm currently working on the fifth novel, 'Magician's War,' and hope to publish it by the end of this year."
Cotton said he and his wife also plan to travel while they're still young enough to have fun. The trip to Washington, he said, made him realize how much they would love to travel.
Editor's Note: The Secretary of the Army Publications Improvement Awards (Departmental or Command) recognize individuals who develop, manage, or support a program or effort that improves the system, process, or program publication of the activity; or improve efficiency or save money. The program or effort may be Army-wide, for an Army agency headquarters department, or for an Army command, corps, division, or installation. A group prize may be awarded in this category, but where possible, the name of a single person who was primarily
responsible for the initiative or achievement is preferred.
For more on PS Magazine:
https://www.aschq.army.mil/home/
https://www.facebook.com/armypsmagazine/
https://www.logsa.army.mil/#/psmag
To contact PS Magazine, call (256) 955-0959, DSN 645-0959 or email