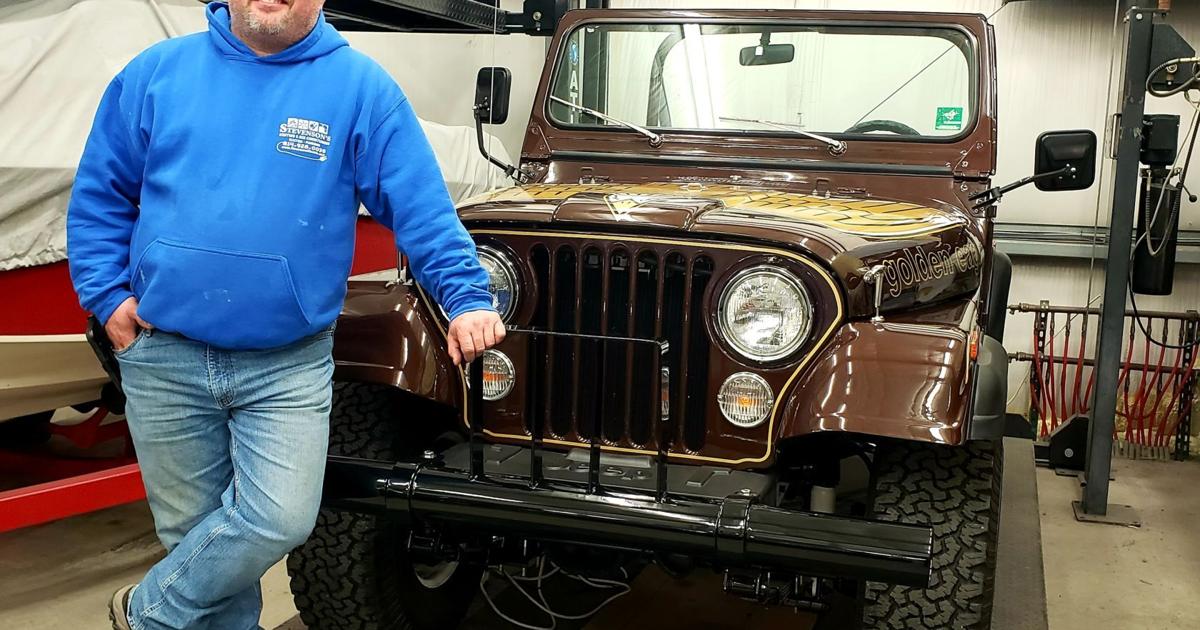 Jeep enthusiast featured in nationwide publication |
Those who remember the late Samuel W. "Sam" Stevenson will tell you with a smile that he was not a quiet man, but rather a perfectly normal man.
Born in Broad Top City on May 27, 1943, Stevenson was the son of the late Ellis "Mac" and Rachel (Jones) Stevenson. During his life he had four children including Keith, Scott, Sam and Lacy Rae.
Sadly, Sam W. died on March 15, 1985 from cancer at the age of 41. While he's known for anything, Sam W. was known to be a wild and mad individual who lived his life to the fullest and made the most of it. life as possible.
As a Broad Topper, Sam W. enjoyed hunting, fishing, and catching rattlesnakes. He was full of adventure and was not afraid to take on and accept new challenges.
Sam W. was also known to travel both on the freeways in the Broad Top area and in off-road areas, including former surface mine areas that contained large piles of spoil and high walls. He did so in his 1977 Jeep Golden Eagle in which he could still be seen sailing.
As many years have passed since Sam W's untimely death, the Bulletin learned that her son Sam was recently featured in a leading automotive magazine with Sam W's Jeep which caught the writer / photographer's attention. from Mecum Auctions magazine Matt Avery just a few months ago.
Stevenson said the article and numerous photos he provided to Avery were due for release last month. Although he received an electronic version of the article to preview, he did not receive a physical copy of the article, but he hopes he will.
The genesis of the article came when Sam and his wife Kerri attended the Great Smoky Mountain Jeep Invasion which took place in Pigeon Forge, Tennessee in August. Both are dedicated Jeep enthusiasts.
Sam said there were 5,000 Jeeps at the event he and his wife have attended in the past. In fact, in 2019, Sam W's jeep won first place in the CJ competition and won the Best of Show award.
It was in friend Chris Patterson's social media tent at the event that Stevenson first met Avery. Sam's jeep was nearby with his storyboard on it when Avery asked if anyone knew where Stevenson might be located.
Stevenson was within earshot of the investigation and met Avery who asked if he could photograph the Jeep. Stevenson definitely told him and Avery explained who he was affiliated with and told Stevenson that he would like to do a story about his Jeep that he forced himself to.
In the Avery article, Stevenson recalled that his father was a Broad Top coal miner, a profession that still existed for local men in the Somerset area coal mines. Stevenson told the Bulletin that his father left school and went to work in the coal mines with his father.
Stevenson recalled that his father, in 1976, went to Giornesto Motors in Saxton and bought a new Dodge Charger. However, the elder Stevenson will soon learn that the Charger was not for him.
While driving home from the mines one evening, a vehicle from Burkett Motors AMC caught his eye. A 1977 Jeep Golden Eagle sat in the parking lot and quickly replaced the Charger as a new set of wheels from Sam W.
Not happy with your typical Jeep, Stevenson said his father, days after purchasing the vehicle, started making his own personal modifications.
Sam said her dad wasn't nice to the jeep taking her where she really shouldn't have gone. We remember that Sam W. used to corner his jeep in the old coal dumps in Wood's backyard and use his trusty "CB" to call for help.
"Dad unwittingly threw a guy out of the Jeep and smashed another guy into a big mud hole. Luckily the guy was fine and he came back and they kept going, "Sam said with a laugh.
Sam also recalled a time when he was very young and he and his father crossed the old Huntingdon & Broad Top railway bridge in Cypher. The railway trestle is now part of the H&BT hiking and biking trail.
"I remember being in my car seat and looking at the water way below," Stevenson said in his interview with Avery. Sam W. has walked through the trestle girders since the railroad ties were removed when the railroad was abandoned in the early 1950s.
In February 1985, Sam W. gifted the Jeep to Sam's older brother, Scott, for his 16th birthday. Sam said he was a little upset because he was playing in the Jeep.
"I stacked my toys against the side of the jeep, stood in the seat, grabbed the steering wheel and pretended to be driving it. I was really unhappy when he left, "he said.
Sadly, a month later, Sam W. died of cancer on March 15, 1985 at the age of 41. Scott kept the jeep for 10 years before parking it due to a mechanical failure.
Sam said he wanted the jeep and kept trying to convince Scott to sell it to him. As it was the last thing he received from his father, Scott was reluctant to give up the property.
"The jeep sat in an old bus garage in Finleyville for a long time until it was taken to Scott's backyard in Coalmont. I tried to convince Keith to convince Scott to sell it to me, but he said the jeep wasn't worth it, "Sam continued.
One day in 1999 and before Scott died, Sam again asked Scott to sell him the jeep. "What are you going to do with the old man's jeep?" he questioned Scott.
Scott said he was going to fix it. Sam told him he had heard that same line for years.
For some reason Sam said he had changed his mind and told him he could have the jeep but would be responsible for bringing it to his home in Marble City. Sam had no problem with this and made arrangements to bring him home.
"He gave it to me on the condition that I promise him that I would do something with it and keep it forever." Sam loaded the jeep onto a trailer with the help of an attendant and drove it home.
"I drove the jeep around a few days after I brought it home. The jeeps have suction lines and the lines have been rotten from adjusting so long without any attention, "he said.
Sam said he did a few things with the jeep in 2003, but didn't push it too hard until 2014, when he worked with his wife Kerri on his Dukes of Hazard CJ7 "Dixie jeep. he decided to go back and give his father's jeep the TLC he craved.
He dismantled the vehicle to its chassis, overhauled it, repainted it and put it back in new condition. Sam even maintained his father's original modifications.
Once it was ready to drive, Sam and a friend decided to head to Broad Top City where Keith was living at the time. It was a cold spring day and with no roof covering Sam said it was a very cold ride.
"Keith said he could hear the jeep coming down the road because it sounded the same as when their father had driven it. He then drove the jeep in the Broad Top City 150th Anniversary Parade in 2004, pulling the Broad Top City Church of God "Golden Girls" float which featured women in the group dressed in period costume.
Sam said he took the jeep to an auto show in Wells Tannery before. A gentleman walked up and looked at the jeep and remembered a friend he had worked with in the mines having a jeep like this once.
Sam asked the gentleman if he remembered his friend's name and he replied "Sam Stevenson". He told the man to read the storyboard he is carrying with the dungeon.
"The man couldn't believe it was the same jeep. I told him it was and who I was and he was stunned.
Sam said the jeep has a lot of sentimental value for him and his family. It was used by his parents, his sister, his brother and by him and his wife for their weddings.
"There are a lot of family recalls in this jeep, including Scott's tooth marks on the dash and an original GM&W District 2 Miners' Union sticker. There are still a lot of original parts left, including the hood, firewall, tailgate roll bars and carpet, "Sam explained.
The front bumper of the jeep was made by Sam W. while working in the mines in Somerset. Sam has an original inspection sticker that the jeep would have sported at the time.
He had the decors redone with a Levi Strauss interior featuring orange Levi Strauss labels that once appeared on the designer's jeans.
From 2014 to 2017 Sam and Kerri worked in jeep restoration as a side activity, but it was just too much for them. "I had more spare parts in my garage than mine and while we loved what we were doing, it was just getting too overwhelming. "
"We've been married 16 years and she was a car girl and I was a car guy and we did a lot of projects together. We still like to tinker with old cars, but at our own pace, "he said.
Sam runs his own business in the HVAC business and right now continues trying to meet winter-related job demands.
As for his father's jeep, he said he would not sell it for any money. "If I was having a hard time I would probably have to do it," he joked.