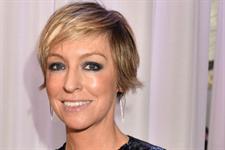 Former Glamor magazine editor to become charity chief executive
The former editor of Charm magazine has been appointed Chief Executive of Children with Cancer UK.
Jo Elvin, who has spent the past four years as editor of the Mail on Sunday extra cost Youwill take office next month.
Charm became Europe's best-selling magazine after overseeing its launch in 2001.
Elvin has spent more than 30 years as a senior journalist and has also served as editor of titles including new woman and Sugar.
David Gibbs, Chairman of Children With Cancer UK, said Elvin had "an exceptional ability to understand what people are passionate about, which will be invaluable in future collaborations, helping us to continue to raise awareness and donate for the 'association".
Children With Cancer UK had an income of £13.8m last year and spent £15.3m.
In 2020/21 it worked with Cancer Research UK and the Teenage Cancer Trust to provide more research and frontline services to young people with cancer.
Elvin said: "I look forward to the next chapter of my professional life, which will include protecting and building on this legacy.
"Together with our excellent trustees, we aim to take the charity to even greater success by raising vital funds for groundbreaking childhood cancer research, as well as doing everything in our power to be there for patients and their families when they need us most."